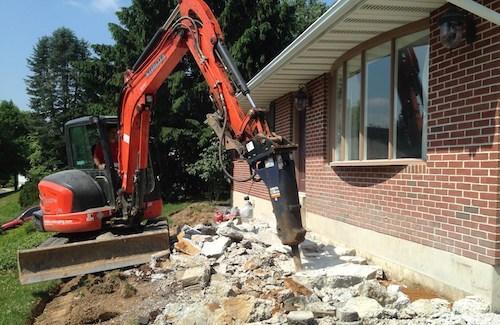 We provide concrete removal concrete in Orlando, including excavation, yard waste removal, and our narrow access equipment can help you get the job done without having to pull the fence.
We can break, raise and remove your driveway or backyard concretes, leaving it ready for a fresher relay. Our equipment is perfect for this job, and our concrete removal contractors can get in in no time and get the job done usually within just one day, which means you can move on to installing a new sidewalk the next day.
At Evergreen Grading, we handle all your concrete slab removal and light demolition services. Our services include breaking, cutting and removing old concrete from your property, as well as providing concrete excavation and close access services. All old concrete waste is disposed of cleanly.
With one simple phone call, get in touch with our qualified operator. For the right prices, we can come and offer our service in your timeframe. Start by sending us a message about your specific concrete removal work and our team will send you an offer.
We Are Ready. We Are Expert. We Are Here to Help.